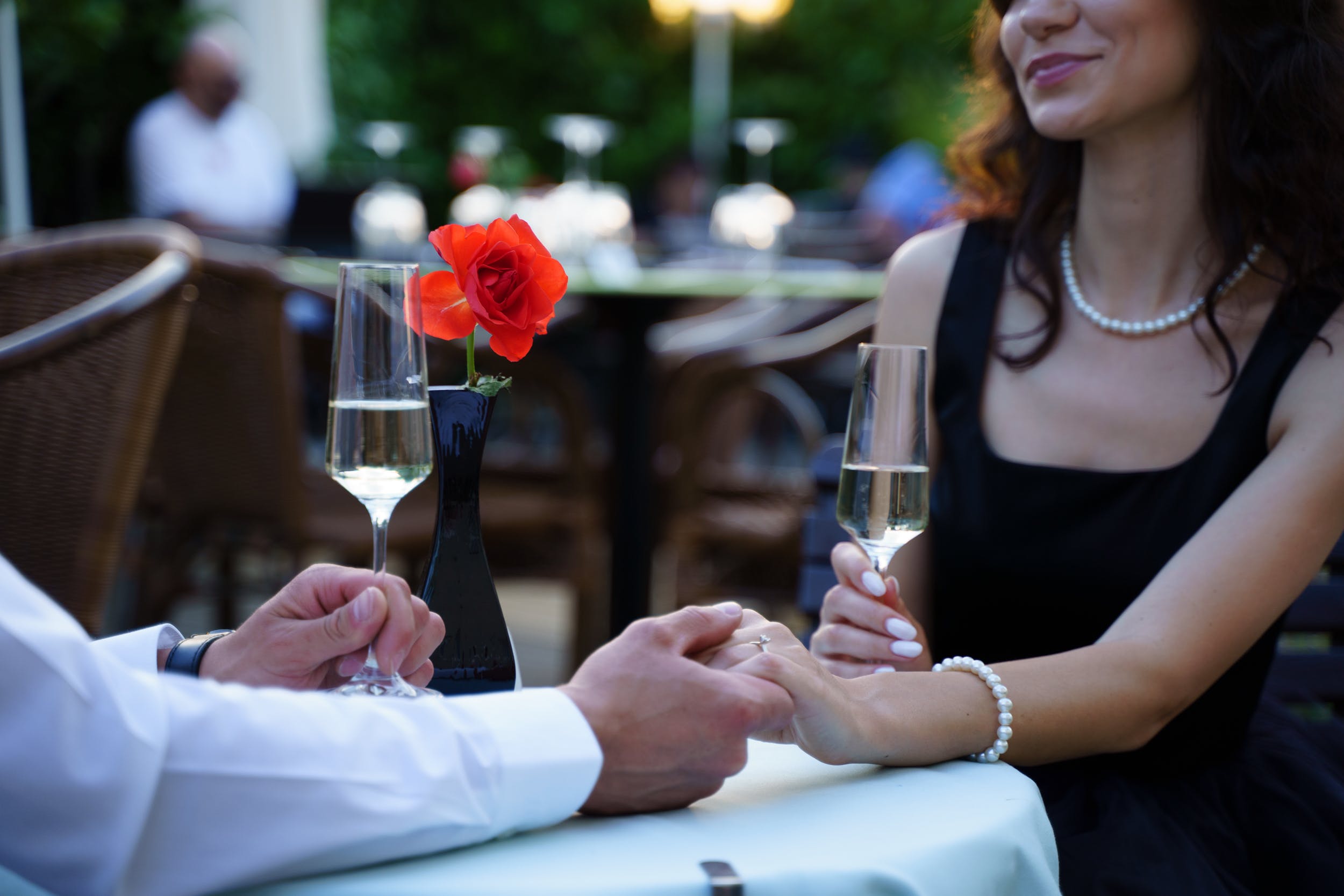 One of my favorite clients is someone who should never have been my client at all. After finding his soulmate marriage, he ended up losing her to cancer. Throughout the precious time they did have together they exemplified what true love should look like. When his wife died, he not only lost the love of his life but also his best friend. 
To say he was devastated is an understatement.  
He was adrift. He wasn't prepared to lose his wife at such a young age. His dreams of raising children, building their dream home and traveling the world with his forever companion had vanished. Feeling incredibly alone, he began moving through life without a meaningful purpose. Until his best friend finally convinced him that it was time to get back out there. 
Three years after he lost his wife, he reached out to me and as they say, the rest is history.  
As a professional matchmaker, I recognize that everyone's situation is different. This heartbroken man wasn't looking to replace his wife. Once I helped him understand that is not and will never be my goal, he became more invested in the process. As he began opening up, I got to know him on a deeper level, which allowed me to connect him with women with similar interests, needs and desires who could empathize with his experience, and help him find love again.  
We knocked it out of the park. On his third "first date," he met a beautiful and charming woman whose love of sports, theater, and travel matched his, and a genuine spark was ignited. Over time, and with my gentle guidance, the two built a meaningful relationship. 
Without my help, I truly believe that this wonderful man, who hadn't gone on a first date since his last date with his wife before proposing to her, might have faced some challenges in navigating today's dating world. But with my expertise in relationships and dating, he discovered something entirely new — something beautiful that is meaningful and necessary but will not erase or replace the love he lost.  
Whether you find yourself unexpectedly back in the dating world after losing a loved one, going through a divorce or traumatic break-up or simply starting your love journey, seeking the support of professional matchmaking services will help you navigate the dating scene and help you avoid the common pitfalls. 
There are plenty of fish in the sea, and a professional matchmaker will help you catch (and keep) the one that is perfect for you. 
5 Reasons Why a
Matchmaking Agency
Might Just Be Your Answer
As a professional matchmaker, I don't just offer advice, I get down in the weeds with my clients. We go deep, unearthing their authentic needs, desires and expectations. It feels like a partnership as we strategize and plan for the future together.  
This is what you should expect and deserve when you hire a matchmaker. The best matchmaking services will do what it takes to help you connect and build a meaningful relationship with the right person for you. 
Let's explore some of the reasons why hiring a matchmaking agency is your best bet.
1. We're Your Trusted Ally
A professional matchmaker is like that loyal best friend who understands you better than you understand yourself. They are someone who picks you up when you fall and always has your back no matter what, but who isn't afraid to call you on your "you know what" and push you to be, and do, better. 
When you find a matchmaker like that, it will change your life. 
The best matchmaker will become your trusted ally, more than just the wingman you didn't know you needed. They will be invested in your growth, happiness and overall success, both in life and in love. After all, your success is their success. But more than that, they genuinely want you to find the love you deserve. To ensure this, they will offer an unmatched level of support, understanding and visibility. 
Because they don't just find matches; they believe in your unique story and leverage that to create the perfect setting (and companion) for enjoyable first dates. Dates that have the potential to develop into lasting love under the watchful eye of your personal matchmaker.
2. We Connect You With a Match on Your Level
Sometimes the most challenging part of embarking on any journey is figuring out where to start. When you hire a matchmaker, they take this hurdle off your hands. With a proven track record of successfully connecting hundreds of relationships and creating successful marriages, high-end matchmaking services offer clients access to a vast network of pre-screened, quality individuals on your level.
Your personal matchmaker takes the time to ensure your matches are worthwhile, carefully vetted and align with your values, lifestyle goals, relationship desires and communication style. They speak on your behalf and share your story in advance to limit the awkward first-date conversations that take the joy and fun out of dating. This not only improves the quality of every date you have, but it significantly increases your chances of discovering a real connection that has a greater probability of becoming a lasting relationship.
But before entering the dating world, you need to choose the right matchmaking agency, because, like potential matches, they aren't all created equal. It is vital to find a matchmaker whom you connect with and who truly understands and reflects your standards and lifestyle. This authentic connection is the foundation upon which a tailored, effective and enjoyable matchmaking experience is built. If you like and respect your matchmaker, you are more likely to fall in love with the matches they create for you.
3. We Value Your Time
A matchmaker understands that you're a busy professional with goals and ambitions. Time is a precious commodity and should be treated as such, especially in the quest for love. You have time to date, you just don't have time to date the wrong people. When you partner with a high-end matchmaking service, you are placing a significant part of your relationship journey into the capable hands of a professional who cares about your intentions. 
Say goodbye to exhaustive searches and endless swiping that leads to fatigue and disillusionment. Imagine how many enriching life experiences you can have when you save up to 20 hours per week not swiping on dating apps. The best matchmaking services excel in efficiency. If they're an experienced and respected agency, they already have a process in place to take the work of finding love off your plate. 
4. We Enrich Your Quality of Life 
One of the standout benefits of engaging in professional matchmaking services is its return on investment (ROI). A professional matchmaking service lets you regain control over your time.  With valuable hours back in your hands, you're free to invest in the most meaningful aspects of life — reconnecting with friends and family, planning that dream trip, diving into passions that ignite your enthusiasm or embarking on a journey of personal growth and self-discovery.
The best matchmaker enriches your life and empowers you to pursue love on your terms.
5. We Level Up Your Compatibility and Success Rates
The magic of matchmaking is….well, magical! When people work with a trustworthy matchmaking agency, the love stories that unfold are nothing short of remarkable.
Matchmaking is an exceptionally personalized and tailored experience. It's like having your own personal agent, friend, high-level advisor and champion by your side. It simply can't be compared to any other DIY dating methods that typically only yield temporary and fleeting results. I think of this as an investment that will de-risk your future. We all know the high cost of divorce. The choice of partner has a direct impact on our emotional, physical and financial future. Like a financial advisor, a trusted matchmaker with a high success rate will guide you to making smarter decisions and help you shape a brighter future.
Matchmaking experts hone their craft through years of experience and profound insight into human dynamics. The wealth of knowledge and expertise they offer significantly boosts your chances of meeting an ideal partner while helping you become the best you can be. The coaching and advice you receive, along with helpful and insightful post-date feedback, all become part of the bigger plan for bringing you closer to your goals. 
Professional Matchmaking Services
vs. Online Dating Apps
Can you imagine if my client who had been out of the dating scene for many years had downloaded dating apps instead of seeking my real-life help? According to his best friend who referred him to me, it would have been a disaster of epic proportions (but also would have led to some funny stories to share at get-togethers).
Decades of experience have taught me that matchmaking is the holy grail of discovering authentic and sustainable love. While dating can make you feel adrift in a sea of turbulence, a matchmaker can steer the ship toward calmer waters.
Because dating apps aren't always reliable. A matchmaker can help you avoid obstacles, like "ghosting" or meeting someone in real life whose appearance and lifestyle are worlds away from what they portray online.
Matchmakers prioritize creating authentic connections. We meticulously curate potential partners based on shared goals, values, lifestyles and preferences. Plus, every candidate undergoes a rigorous screening and interview process, ensuring that every date is a promising and accurate match. With a matchmaker, you can move on from the overwhelming feelings of disappointment found in online dating and discover genuine and sustainable relationships. 
The Heart of a High-End Matchmaking Service Experience
Still not sure you're ready to bring professional matchmaking services into your search? We work with clients at every stage of their relationship journey. Don't think you have to be ready for marriage to enlist the support of an expert. You simply need to be ready to date on a higher level and excited to meet new and interesting like-minded people.
When you embark on a relationship journey with LEVEL Connections, you can expect a level of service grounded in more than two decades of experience and unparalleled success in the industry.
Notice I didn't say "dating journey," because a matchmaker is by your side far beyond the initial phase. We're there every step of the way to help you nurture and establish each relationship. We guide your pursuit of love with the utmost respect, professionalism and confidentiality. An expert matchmaker can't make love happen. That's entirely up to you and the special person you'll meet. We're simply here to create thoughtful and inspired introductions to provide the best environment to build a meaningful relationship. 
Our extensive network is a vibrant community of qualified, vetted singles carefully chosen to align with your values and unique preferences. We dive deeper than surface-level connections — our matches are meticulously curated based on ten categories of compatibility, laying the groundwork for better dates and ultimately, a successful, happy and healthy relationship.
We get behind your success and go beyond setting up dates. We offer comprehensive advice and unwavering support throughout your journey. 
We're all about continuous improvement, both in your individual journey and our services overall. We are always seeking valuable pre- and post-date feedback, which we use to improve the accuracy of each new introduction. As the CEO and Founder of LEVEL Connections, I've personally designed a proprietary interview and matchmaking process that sets the industry standard, guaranteeing the quality of our high-end matchmaking service.
To make your journey even more seamless, we leverage innovative technology to keep you organized and on track. Our goal is to ensure that your dating experience is not only enjoyable but also efficient, effective and extraordinarily successful. We believe dating shouldn't be a second job and have created a process to make dating fun again.
With professional matchmaker guidance on board, you are prepared for the pursuit of love — all that's left to do now is take the leap!